With all of the ranting I've been doing recently, it might be easy to forget that I really, truly, love the sex toy industry. It changed my life! I believe that good toys can have a profound impact on one's quality of life.
Luckily, the holidays are a great time to find good deals on toys. Below, I've gathered up some of the best deals out there, and included some of my suggestions for last minute gifts. If you've waited until the last minute, know the Dec 15 is the last standard shipping day that most online shops can still guarantee Christmas delivery.
SheVibe is always bringing the deals. If you missed their Black Friday/Cyber Monday blow out, have no fear. They almost always have the best prices around anyway. If you click the banner above, you'll be taken to their homepage (and you'll be supporting Marvelous-Darling.com). My top gift picks from SheVibe: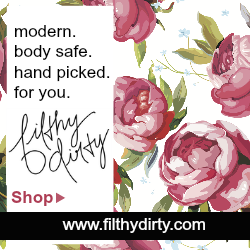 Filthy Dirty is one of my favorite shops, because it has a lovely boutique-y feel. I appreciate that kind of curation when it comes to my number one vice. You can check out my stocking stuffer page right on the Filthy Dirty website (how cool is that?) or keep reading to find out some more of my top picks. You can use the code SANTABABY at checkout for free shipping and 20% off.
JeJoue MiMi Classic ($81 or $64.80 with code): I bought myself the original JeJoue MiMi after a breakup in February 2012, and that's essentially how this entire phase of my life began. I was immediately hooked on luxury vibrators made of body safe materials. And now here we are. The updated MiMi Classic is the same pebble shape that I love, allowing for either pinpoint or broad vibrations, but its motor was beefed up and the controls were made easier to use. What's not to love?
Joyful Midnight Glass Wand ($42 or $33.60 with code): Filthy Dirty sent me the Joyful Midnight to review and to inspire a post on glass for their blog. My absolute favorite thing about glass toys is how easily they glide. Even with the amount of texture on this dildo, I found it easy to thrust with, and it provided really lovely G-spot stimulation.
Revel Body Sol ($139 or $111.20 with code): While many were displeased with the original Revel Body, I never received it. Instead, I was sent the Sol, which must be a different animal entirely. I found the Sol's oscillations to be different from even some of the strongest vibrators I own, and the small, spherical shape fits very comfortably in my hand. For some reason, the OM setting has me orgasming in minutes. You can check out my review here.
Tenga Eggs ($7 to 44 or $5.60 to $35.20 with code): These adorable plastic eggs contain well-designed, disposable masturbators for people with penises. You can choose from a variety of internal textures, each made of a soft, flexible elastomer. One is $7, or you can get a half dozen for $35.20.
What will you be gifting this year?